Abdul
son of Sultan of Nanded in Khandesh, Aged about 65, Mussulman, residing at Shirdi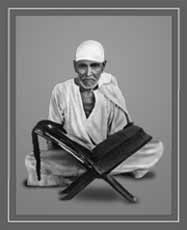 8th December, 1936
One night I was tired and tried to sleep, holding my palms in front of me to rest my drowsy head. Then Baba said "Are you trying to see the moon?" That night I fell asleep and fell upon Baba and his gadi in that sleeping condition. Baba gently stroked my feet and I awoke. Next day, strange to say, when I took water in my palms and looked, there was a big moon in that water. It was 2 p.m. This was what Baba had spoken of. I used to look after the Lendi place and its light i.e., the ever burning light maintained by Baba there. It was in those days placed in a hollow in the earth scooped out to the depth of about 2 feet and protected with a cover to save the light from being blown out. There was a pandal. A zinc sheet was the top of the pandal. Some 20 curtains of cloth were tied all round, to form something like a tent. I remained in it and looked after the lamp in the centre of it. That light has been shifted from its place now, very slightly, and is put in a raised pillar of bricks and mortar containing an enclosed chamber for the lamp. When Baba sat near to lendi he would sit close to the light. I filled two buckets with water and placed them near him. This water he would scatter alround that lamp. He would get up from the lendi and walk a few yards in each direction and go on gazing at that direction.
My service to Sai Baba was service to him and to all. I washed Baba's clothes in the streamlet (odai) flowing at the village boundary. I swept the mosque, the chavadi and surrounding places and lit the lamp in these places and fed them and the lendi lamp with oil. I not merely swept the village streets but also removed the night soil. Baba called me Halalkoor (Scavenger) and "my miriambi". I fetched water and did sundry services.
Ayi during the early years of her stay did part of the street sweeping work. Even then, my work supplemented hers.
Baba protected me and protects me by giving me the needed food and ensuring my safety and progress.
About 1927, i.e., after Ayi and Baba passed away. I was in Ayi's sala, reciting Quran. The three walls of that dilapidated mud building suddenly collapsed and I was buried waist deep in the debris. But Baba saved me from any hurt. Baba has given me his blessings and kept me with him. First my Guru himself directed me to be with and serve Baba, and I did so. But later my Guru came to Shirdi and wanted me to go away with him. I replied that I could do so, if Baba so ordered. But no such order having been issued I stayed on with Baba and my former Guru went away from Shirdi. Baba's blessings to me were strange and sometimes concealed in abuse and violence. He has beaten me and Jog many times.
He uttered blessings and prophecies, seated before me in the morning at the chavadi and then started for the mosque. Baba was constantly saying many things about Avatars etc. These have been written down in my note book. I take 3 baths a day. Only if I see the face of a lady, I can say positively whether she will have issue or will get married. I have given out such prophecies and they have come right. I owe all this to Baba. I give Asirvad to those who come to me.
Source: Devotees Experiences of SRI SAI BABA by B.V.NARASIMHASWAMIJI