Santaram Balwant Nachne Dahanukar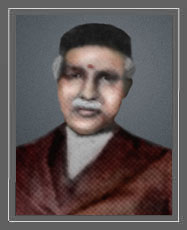 Thana, 13th September, 1936
Baba took Udhi from my hand and applied it to my forehead - a mark of favor and love that is not bestowed on all.  Again when people were assembling for Arati at the Masjid, and I was among them, Baba asked me to go and take my meal. I said it was Ekadasi.   Usually I did not fast on Ekadasi days; but my two friends did and I had to conform to their ways and not be singular and claiming advantages which they did not share.  But Baba did not want me to fast. He said (referring to my companions) "These people are mad, You had better go to the Wada and eat." The person who had to serve the food at the wada was grumbling that I should be clamoring for food on an Ekadasi day and would not give me food till Arati was over.  So he came to the Mosque and I also returned to the Mosque.  Baba again questioned me if I had messed but I said that it was time for Arati and so the meal might be deferred till the completion of the Arati.   But Baba insisted and said "The Arati will wait and will begin after you finish your meal and come."  The hotel man had to yield and gave me food.  Then I went to the Mosque for the Arati.  At that time a lady generally known as "Mavusi" brought beeda (i.e., rolled up betel and nut) to Baba.  Baba gave me some and asked me to eat.  As it is usual to avoid chewing betel and nut (which are considered as luxuries and for that and other reasons avoided on Ekadasi days) I hesitated.  Baba said again, "Eat it." I obeyed and chewed the beeda.   At the close of the Arati, Baba took dakshina of Rs.4 from me and Rs.16 from Vaidya.   He did not ask Date for dakshina, as he was evidently not disposed to give it.    There was a young Marwadi girl that was hankering after fruit and asked Baba for "orange".  Baba by his own powers knew that Date had kept back some oranges at the wada and brought only the remainder to be offered at the Mosque and so asked Date to go and get the oranges.  But Date was assertive and said that the fruit was retained by him for "Faral", i.e., his own light meal on the Ekadasi day.  He declined to part with it, despite Baba's request.  Baba did not press his request further.
During our stay, Baba revealed his interest in me and my family.  When H.S.Dixit, Jog and Dabolkar were present, He told them, "I had been to this man's house" - and here he pointed to me - "for a meal. He did not give me Bendi Baji". My mind darted back at once to the Sadhu who in 1909 at the time of my brother's operation was dining with us. And I felt assured that in the form of one Sadhu or another, Baba was interested in our welfare and helping us even in 1909 unknown to ourselves. Later, I told those gentlemen of the "Bendi Baji" which my sister-in-law had first failed to serve the Sadhu on that occasion. That Sadhu appeared to be an entirely different man from Sai Baba. I saw him also on the two or three days following the operation at Dahanu and had excellent opportunities of observing him at close quarters. He went away from Dahanu and was not seen again thereafter.
Baba was declaring in 1912 to me that he was the same Sadhu or was in that Sadhu despite external differences in appearance, caste, etc.  That Sadhu was a Hindu, rather dark or brownish, and had a fairly long beard such as was never on Baba's chin. He looked more like you (B.V.N.Swami) than like Sai Baba.  I asked Baba about the result I would have in my examination. He said "Allah Malik Hai" and placed his palm on my head.  I passed that examination.   The impressions I received at this first visit were in danger of being blotted out on the last day.  That morning we found Baba was in tearing rage at the Mosque for no reason that any one could make out.  He was jumping about the floor of the Mosque. His eyes were red and for fifteen minutes he kept every one in terror of him and none dared to approach him. That made us doubt again if the Station Master's view that Baba was a mad man was not right after all. At last, Baba cooled down and we approached him for leave to go away from Shirdi.  He gave us Udhi and leave.
In 1915 Baba gave me another blessing (unasked). I was then employed at Dahanu (Thana District). It is not easy to get a transfer from Mofussil service to Metropolis service. But Baba said in 1912 "Come to Bombay for service". In 1918 this prophecy or blessing had its fulfillment or effect by my being transferred to Bandra, i.e., Bombay Suburban District. The breach of duty that Baba pointed out, viz., being absent from office without leave of my superior, the Mamlatdar, was noticed by the latter, Mr.B.V.Dev. But, providentially his order was merely that if I were to do so again I would be punished.