Raghuvir B. Purandhare
S/o Bhaskar Purandhare, aged 60, Brahmin, Deshasth Shukla Yajur Vedi (Kelva Mahim, Thana Dist - originally) now at Bandra, Retired clerk of G.I.P. Rly, Sainath Ashram, 59-B, Perry Road, Bandra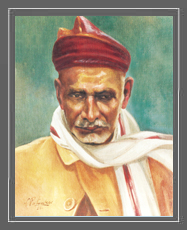 Poona, 4th May 1936
He directed me to co-operate with Kaka Saheb Dixit (i.e., H.S.Dixit) and told Kaka Saheb to cooperate with me. We two acted together as intimates.
He never talked to me of Dhyana. He never asked anybody to pray to him only. "Continue your usual prayers, be it to Shanker or to Vishnu," he said. He used to give Darshan to the devotee in that form, e.g., S. or V. or Goddess, whichever the devotee adored.
About 1913 - My mother was long pressing me to go to Pandharpur. I did not mention the matter to Baba to get the necessary permission. Baba himself broached the subject of going to Pandharpur and asked her when she was hoping to start. Then Baba gave my wife and mother Darshan of himself as Vithoba and Rukmai, at Shirdi Masjid. They were highly pleased and did not want to go to Pandharpur. He often asked her afterwards when she would go to Pandharpur. She always replied thereafter that her God was there at Shirdi which was her Pandharpur. When my wife was ill once before her delivery, Baba appeared in a dream and applied Udhi and she got up and cried, "Baba is come and applying Udhi fresh and hot from the Dhuni. My body is burning. So get up." She got alright. Like this, Baba has appeared several times.
When in great difficultly, I always cried before his picture at home. He would then appear before me at once and comfort me. Nana S.C. told me of Baba's sending a man with Udhi to help his daughter in her delivery in ill-health at Jamner; that a tongawalla and horses not sent by him fetched the messenger and disappeared. That messenger is a Ramgir Gosavi still alive at Shirdi. Baba used to call him Babugir. Nana's two sons, Babu and Bapu, are at Kalyan in "Chandorkar Wada, Kalyan". A daughter of his is living at Poona. Nana was proud of his Sanskrit knowledge. Sai Baba asked him to explain 'Thadviddi Pranipathen etc., and he did. Baba corrected him and explained it better. This is mentioned in (Satcharitra) Ch. 2 on that matter: Ch. 31, 32 & 33 of "Bhakta Lilamrit" by D.G. and I Ch. in "Santa Katamrit" by D.G. and "Bhavartha Deepika" by Dabholkar
Sri Sai never talked in my presence about Adwaita, etc. He said always "Allah will protect," "God protects us all, the poor, etc."
He never said in my presence that he (Sai) is in all. But he often identified himself with God.
I do not remember his talking of Pranayama, Kundalini, etc., and I never cared for these. N.S.Chandorkar said that Baba knew Sanskrit. Baba took up Bhagavata, etc., and pointed out passages to people as specially suitable for them. This supports N.S.C.