Rao Bahadur Hari Vinayak Sathe
Retired Deputy Collector, Deccani, Brahmin, Aged 81 (born 1855), Residing at 108, Shukrawar Peth, Poona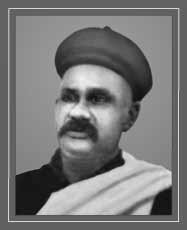 Sathe Wada
Near Baba's favourite margosa tree there were the remnants of the old village wall. Baba told me, "Pull down the village wall and build". I took this to be an order that I should rebuild the village wall. Then I said to myself, 'I am not a prince or ruler to put up a huge village wall or restore it', and I kept quiet. Finally I found that Baba's suggestion was far more modest and was only for building residential quarters there and for including the village wall, in the construction. So I bought the land there and using the remnants of the village wall built up a Wada enclosing or surrounding the Margosa tree. Baba told me that the Tomb close to that tree over which now a part of the building has been erected (leaving only a small niche for worshipping it) was that of his Guru. He gave me his Guru's name. It ended with "Shah" or "Sa". I have forgotten the rest of the name. It might be "Venkusa".
I went and resided at Shirdi for sometime. Baba's Arati and Pooja on ordinary days were started but for some time there was no celebration of Guru Purnima by special worship of Baba on that day. Baba himself sent for my father-in-law and said, "Do you not know that this is Guru Poornima? Bring your worship material and do your Guru Puja". Then we had Guru Pooja on that day and this practice of celebrating Guru Poornima by all the devotees worshipping Baba then begun, has continued uptodate.
Baba never called me "Hariba" etc. He always called me and referred to me as "Saheb". The account in the Santkathamrit that in the presence of myself and some others Baba went into a long disquisition on the nature of God and Sadhana Chatushtaya, defining Viveka-Vairagya, Samadishatka and mumukshutwa, Brahma Satchidanand etc., is not correct. Baba never talked of such subjects in my presence. I do not know if he addressed others on those matters.
The account given in Bhaktililamrit, chapter 31, verses 219-236 regarding my marriage etc., are very inaccurate. These were not written after consulting me and they were not shown to me even after being written. The correct account is what I have given above.
Baba was indeed the cause of my marriage and of the great change in me since 1905 and he is the controller of my fortunes and destiny ever since. I place my entire trust in him and seek his guidance and protection in all matters temporal, religious, official and domestic. When I built a wada at Shirdi and lived or made my father-in-law live there with my family, ie. between 1906-1916, we incurred the jealousy, resentment and hostility of various people amongst whom we had to live. We could not have got on as we did despite all that, without Baba's perpetual and vigilant care for us. His active interference helped me miraculously in numerous instances. I will give a few examples.