Bayyaji Apaji Patel
aged 47, Mahratta, Land owner and Revenue and Police Patel of Biragaon, residing at Shirdi.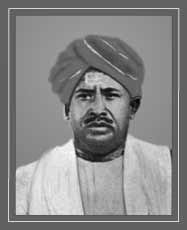 9th December, 1936.
I knew Baba since my babyhood. My house was one of the few houses from which Baba took his bikhsha, i.e., begged his bread from the beginning of his life here and up to the end. For some three years, Baba would go over about eight times during the day to our house to beg for his bread. Next three years he visited us for this purpose four times a day. For 12 years, he visited us twice a day and during the last 12 years he came to us for bread once a day only. From my 11th year, I used to serve Baba. In 1896, i.e., my seventh year, the Ramanavami Urus celebration began. It was then that Baba began to allow Hindus to affix sandal or to do pooja to him and moslems to read Koran before him at the masjid. This urus was started by Appa Kulkarni out of gratitude to Baba for the acquittal in the embezzlement charge brought against him. When Hindus affixed sandal paste to Baba, the latter applied sandal marks with the hand (Punja marks) on the walls of the masjid and other moslems did the same. Baba then applied sandal paste to Mahalsapathy's forehead and some moslems. Mahalsapathy applied it to Baba's forehead. Baba then allowed Namaz to go on at the mosque and enjoined silence on all others while Namaz was going on. Baba himself recited the Namaz sometimes. That was only on Saturdays. When Pedas or other sweets were brought to Baba, he uttered the Kalam (which is the same as Fatia) over the sweets etc., and then distributed them to all - Hindus and Moslems alike. Baba finding that Hindus and Moslems would have differences as to the way and manner of celebrating the Urus allowed Sandal Panja to be put on all - Hindus and Moslems alike. My father, Nana Sahib Chandorkar, Tatya Patel, etc, all bore the expenses of the celebration.
One day, when I was 11 years old (1901-2) Baba stopped me from going away to tend my cattle. Then he suddenly spoke angrily at me and others, and broke four mudpots. Then he blew "Bum Bum" on the back of his hand - indicating that death or some inauspicious event was coming. This was at 9 A.M. or 9-30 A.M. That night my father's sister's son Daji Kote, aged 30 died of fever.
During the last 14 years of Baba's life, he gave me daily 4 rupees. Even on his last (Samadhi) day, he gave me four rupees. As to the use of his gift, Baba once told me neither to lend the moneys he gave, nor make a gift of them. "Do not eat and excrete this. Do not give it away to others." So I have invested it in purchases of land. I purchased 84 acres of land out of Baba's gifts. I have had already 10 or 11 acres of other land.