Shridhar Narayan Kharkar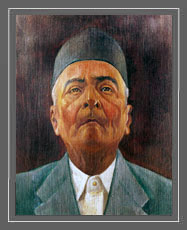 aged 57, Kayasta Prabu, Accountant, Secretariat, 37 Charni Road, Thana, 1st September, 1936.
My earliest period, that is infancy, was wellstocked and fed with religious ideas and ideals by the pious prudence of my grandfather.
When I was thus developing the orthodox side of my religious study and practice. Mr. Appa Kulkarni, Deputy Collector, a very pious soul, showed me the picture of Sai Baba that he was devotedly attached to. That was my first contact with Baba. Very soon after that I got from Mr. Dahbolkar a picture of Baba, a number of Sai Lila Masiks and a packet of Baba's Udhi that came on a day. I was unwell; and on the second day, I got alright and started my worship of Baba which steadily grew thenceforward.
The beginning of my faith in Baba was marked by a remarkable dream or vision.
The picture I got from Mr. Dabholkar I took to my Pooja room but when I was taking it near the picture of the Akkalkot Saint that I was already worshipping, some impulse made me withdraw the new picture. 'Hallo! This is the Moslem's picture. How could it be placed next to the holy Hindu Saint?' So thinking I kept it apart, a little distance from (and not in the same group with) Akkalkot Maharaj's picture.
I had a dream that night. In the morning, I first forgot all about the dream but when I began to worship I at once recalled the details of my night dream. In the dream, I saw a fakir robed like Sai Baba coming towards the oti or veranda on which I and some one else were sitting. I got up to welcome that fakir. Perhaps I was going to make some invidious distinction. At any rate to prevent such a distinction being made, the person who was next to me told me, 'This (Sai Baba) is not different from Akkalkot' and I was directed to treat him on the same footing as Akkalkot Maharaj. Recalling the dream, I rearranged the picture and placed Sai Baba's picture along with Akkalkot Maharaja's and worshipped him.
By Baba's kindness, devotion to Sai Baba has increased by leaps and bounds not only with me but also amongst all the members of my family. I read up all available books on Sai Baba and my wife and children (and God has given me my quiverfull) all have taken to Baba worship and show such a great zeal that in case I fail to attend to arati or pooja of Baba. Someone else is ready to take it up.
At first, there appeared to be some exceptions to my felicity in this respect. My mother was living away from me for many years. But by the grace of God and Baba, she came to live with me. But at first, seeing the worship I paid to Baba's picture and my visits to Shirdi she was displeased on the ground that Baba was a Moslem. But Baba's kindness towards me and her was most remarkable. He worked a gradual change in her feelings. As she was not for Baba, I took other members of my family with me to Shirdi but not my mother.