Damodar Savalram Rasane
S/o Kasar, alias Anna Rasane, Savalram Rasane, formerly of Ahmednagar, now at Poona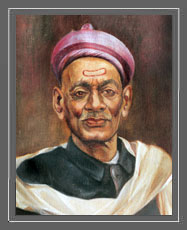 What my son said is true about his birth. When I went to Baba, desirous of issue, he was kind enough to remember me and give me his blessings. When I was still on my way to Shirdi, passing through Kopergaon station, he mentioned at Shirdi that I was coming and reserved mango fruits for me. He gave me those fruits with the blessing that I should give them to my junior wife and that she would bring forth two sons first. She ate the fruits and gave birth to two sons, one fifteen months after my visit, the other years later and he gave names to both in advance. I noted those names in my note book (page 3) and these children bear those names also, in addition to the usual Hindu names I have given them.
I prayed to Baba for a second grandson at his samadhi and he was born.
When I first went to Baba, one Bala Patel of Nevasa or Seagaon was sweeping the masjid and doing (in various ways) service to Baba.
I always took Baba's advice and acted up to it and the results were always satisfactory. Once I had an appeal in the High court, and the lawyer had written to me to go to Bombay. Then Baba detained me and prevented me from going. Yet the result of the appeal was in my favour.
Nanasaheb Dengle brought a big silver plate full of various dainties and begged Sai Baba to eat. Baba shouted out. A black dog ran up and licked up some of the food. Nanasaheb Dengle who was standing near looked at it with disgust. "Is it for this pariah dog that I prepared all this?" he thought within himself. Baba at once flung away the plate with its contents towards him and said, "Take it away". I was present then.
I remembered always Baba's treatment to low creatures and men of low position as his equals or as himself. Once when I went to Baba and knowing that he would not care to go to my lodgings and have his dinner there, requested that he might send Bala Patel to be my guest. Bala Patel was of a low caste. So Baba in granting my request said, "Don't cry Dhut Dhut at him" i.e., do not humiliate the guest by giving him place far away from your own place of eating. I agreed. When I had prepared sumptuous meals, I spread one plate for Baba and filled it with all eatables and then called out, "Baba, come!". A black dog came in and ate from the plate. I waited reverently till it finished its meal and then gave meals to others and took my own. I gave Bala a plate and made him sit near me and not outside the house.
My mind is always dwelling on Baba, and often I see Him here. Sometimes Baba abused me and beat me even fiercely. But I knew that as with Akkalkote Maharaj, blows and abuse have an auspicious ending. So I never resented or grumbled and I never gave up my attachment to him.
He has asked Muslims to do their namaz and then go to him to read their Quran; he has talked with moulvis on their religion.
I was not asked by nor have I given any information regarding my experience to Das Gunu Maharaj or Dabholkar. I went to Baba for the first time about 1895. In the year after I went, Ramanavami Utsav celebration began and for these 40 years, I have provided one ornamental standard for that occasion every year. That was before Nana was born.
The statement I had three wives is wrong. I had two both living when I went to Baba. I had consulted astrology. Ketu was in the fifth place in horoscope and so there was the difficulty of getting issue. But Baba, a Satpurush, over came all that. He anticipated and provided for the issue of so many years. He said 8 children would be born to my younger wife, to whom I was to give the four mango fruits he gave me.