W. Pradhan
Clerk, Collector's Office, Revenue Department, (Old Customs House) living at Venkateshwar Press, Chawl, near Sandhurst Road, Bombay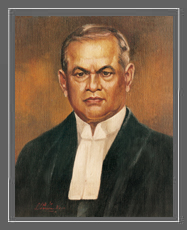 23rd September, 1936.
Nana Saheb Chandorkar was the cause of all my relations going to Baba and therefore the cause of my going also. It was the first week of May 1910. A group of my brothers and other relations were chatting with Mr. Chandorkar. Then my brother Rama Rao asked:- "Is there any one nowadays of the type of Akkalkote Maharaj?"
N.C. : Do you want to see one?
R.R. : Yes
N.C. : In that case, go to Shirdi. In Sai Baba of Shirdi you have one.
R.R. : This is the first time we hear of Shirdi. Where is it and how do we get to it?
N.C. : It is in Kopergaon Taluk, Ahmednagar District. You have to go to Kopergaon Station (on Dhond Manmad Line) and take a tonga. Shirdi is 11 miles off the station.

Mr. Chandorkar gave such a vivid and glowing account of Baba's power, personality, kindness and greatness that all his hearers were aglow with the desire to rush at once or as early as possible to Shirdi and have darsan (sight) of Baba. These relations and friends of mine, forming a group of about 10 or 14 people started the very next day to Shirdi. They wanted me to be with the party. But I had been out and they left word with my wife and went away. I was that day with my mother who told me of their trip to see Baba; but I, in my ignorance, said to her "Who can say, if he is really a genuine saint?"
When the party returned from Shirdi, I took a loan from my brother of two things that they had brought, a copy of Baba's picture and Chapter 31 of Bhakta Lilamrita of Das Ganu, describing Baba's life and the miracles he wrought, promising to return them the same day. I took them home, showed them to my wife, and began to read aloud that Chapter 31 to her. The effect was deep and electric. All the doubt that I had expressed to my mother vanished. I was converted. From that moment I got a firm belief that Baba was a true and great saint if ever there was one. My wife's faith was even greater. I told her that the book and the picture had to be returned that day. But she could not think of parting with Baba and that too on a Thursday. So at her insistence 1 kept them on, even the next day and the third. Then as they were called for by my brother, I had to return them on the fourth day.
Now we were burning with a desire to go to Baba. But circumstances seemed to be adverse to any such adventure. My sister-in-law, who had been recently widowed, appeared to be in advanced pregnancy and had no son. We all fervently hoped she would have a son and I, as the only male member in the house, could not leave the town as the delivery might take place any day.