Sri Narayan Asram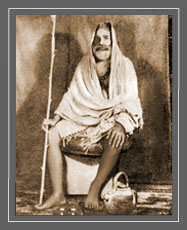 Dady Agiary St., BOMBAY. Sanyasi and disciple of Vedasrama Swami (Taraka Mutt, Durgaghat, Kashi), residing at Vaman Muth, Gangapuri Wai, (Satara District), aged 58, 23rd SEPT. 1936
I have not given out my experience though Mr.Dixit and Mr.Dabholkar asked me for it. I have never heard Baba utter Mahavakyas or say things of Sankaracharya's Atmabodha or Viveka Chudamani or anything on those lines.
When I went first in 1910 no crowds had come. Baba was mostly silent then. Very soon Bombay crowds began to pour upon Shirdi. Then Baba was being pressed into new habits and ways. Devotees to suit their own tastes forced numerous forms and observances on Baba and made him a mere man shining with the aid of the shows they arranged for him. His real greatness shone by itself without forms and rigid observances and pomp, and was shut out by these. These reduced Baba to earthly grandeur.
Baba spoke to me only a few words - but they were direct and plain words. He did not talk to me in parables. He began to employ parable in teaching the numerous people that flocked to him. There is a great deal of parallelism between Sri Sai of Shirdi and Akkalkote Maharaj and that can be found by reading the life of Akkalkote Maharaj. The latter also hardly ever spoke of Adwaitic realization. He was a greater Karmata, (i.e., follower of rigid Karmamarga, the path of works) and insister on forms than Sai Baba. Baba was trying to push people just a few steps above their level.
Das Ganu told me that Baba referred to one Daji Maharaj, a saintly grihastha Brahmin, who lived at the village Dangar Takidi near Nanded (in Nizam's State) as "my brother." That Maharaj passed away in 1934. He was practising Gayatri Purascharan. He said one day in 1914 at Dangar Takidi, "Yesterday, Sai Baba came here in the form of Maruti and there was a great rumbling noise at his arrival".